April 18, 2012
Are You Still On The Right Path?
The Right Path?
Have you ever made a significant decision to follow God's lead to do something out of the ordinary? Have you ever taken a large risk because you knew down deep that God was calling you to do it? If so, were you willing to persevere even when the path turned difficult? Did you decide to dig down and stick it out no matter what happened, because you just knew you were on the right path?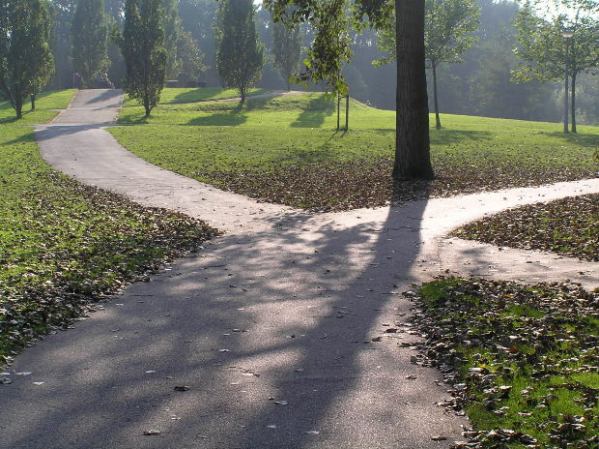 Focused On The Goal
Most business owners and leaders are in their positions due largely to their personality type. We are most often driven and ambitious to some degree. We like to push the envelope and often want to try out new ideas. We are not usually afraid of bucking the trend at least a little.
When we are applying these qualities to integrating our Christian faith into our businesses, we have the advantage. Often, the Christian walk is a difficult one, especially when done in the business world. So, our strong personalities serve us well and keep us focused on the goal.
Not The Right Path?
But what if we are not on the right path? What if we started on the right path, but God wants us to stop or change directions? Because of our ability to focus and eliminate distractions, we can miss Him speaking to us. In that case, we need a wake-up call.
A Friendly Introduction
Roughly seven years ago, a friend introduced me to a preacher from New York named Julio. At the time, it had been a long, hard year since I had turned our business upside down as a result of God's leading.
The path was the most difficult I had ever experienced and I was struggling. At the same time, I had a core-level commitment to continue regardless of the circumstances. I was laser-focused on seeing it through. I had no doubt I was on the right path.
At the same time, I was so focused that I was not willing to listen to outside input. I knew what God had called me to do and I was going to do it. Truly, I was not concerned with the consequences as long as I accomplished what God wanted. While this can be a good mindset in some ways, in other ways it can be dangerous.
My Wake Up Call!
Enter Pastor Julio. He and I talked (more me, less him) for more than an hour about all that had transpired over the past 12 months. He listened intently and probed lightly to better understand what I was saying. At the end of the one-sided conversation, he asked if he could make an observation. I told him I was all ears!
He proceeded to tell me that he truly believed God had called me to make the changes I made. He agreed with my determination to persevere despite the tough conditions. But then he told me that he thought I was missing a key ingredient. He told me that it appeared I had…
To Be Continued…Friday!
Have you been in a similar situation?
What do you think Pastor Julio told me?
Based on what you have read so far, would you have any advice for me?
View the original version of this entry at feedproxy.google.com
Jon Stallings

Washing of feet a duty of a lowly slave, a final meal, tearful prayer in a garden, betrayal, forsaken by friends – Maundy Thursday

Marv Knox

>

Keith Krass

Hey, Keith. Thanks for friending me. I'm thrilled you joined FV a while back. Hope it strengthens and encourages you.

Clarence Fell

Time and Chance

Life is undeniably a gift from God, but this does not mean that it will unfold exactly as we desire. When we give gifts, unplanned things may happen. The warning every child hears when receiving a BB gun as a gift, is about shooting an eye out. We give gifts with the best of intentions, but life is too complicated for us to control how it unfolds. Solomon said it this way, "time and chance happen to everyone," (Eccl. 9:11). This does not mean that the gift is flawed. It just means that we do not control every detail of life. It means that people have the ability to make their own decision. In the process of making decisions, some people make poor decisions. The only way life could function flawlessly is for God to take away our ability to make choices. I do not think any of us want God to turn us into preprogrammed little robots. That leaves us with our current situation, God gave us the gift of life and many people misuse that gift. This means that sometimes we will be in the wrong place at the wrong time when someone else makes a bad choice and we will suffer.

Carina Toledo

>

Jen Gareiss

hello jen!!! thnks you to send me an invitation friendship!! i dont understand this wen site is very dificult to me!!
kisses an God Bless You!!!
cari...=D!!