March 3, 2012
Being patient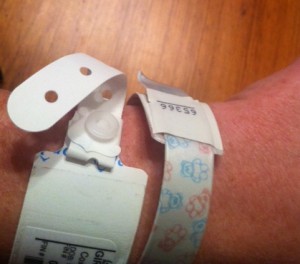 I've been home a week now from the hospital since having Baby G added to the family.  One of the books that we read commented on how the mom should continue to wear the hospital tags as a reminder to herself and her family that she is still recovering and still a patient.  My husband encouraged me to do that this week, and we've had fun with it.  It's actually been a reminder to me not to be some superwoman who tries to do everything.  For me, there were physical limitations that I truly am not able to do, and several times I or my husband would stop and remind me that I was still a patient. Through this experience,  I was thinking about our role as ministers to girls.  Sometimes these girls we love on look more adult than they really are.  We forget that they are still learning, growing, and needing specialized care during these formative years.  I have to stop and remind myself sometimes what it was to be that age, and then I have an AH HA moment that recalls the drama of girl friendships, or not getting asked to a dance, or etc etc.
So today I want you to pretend that each girl you minister to has a "hospital tag" on their wrist.  I want you to remember that you have been placed in their life to help them grow in Christlikeness.  The job you are doing is worth more than you know.  1 Timothy 4:8 says: while bodily training is of some value, godliness is of value in every way, as it holds promise for the present life and also for the life to come.
What are ways you can help the girls God has placed in your life to be trained in godliness?   If you have only been having "girl talks" with no intentional margin to bring God into the conversation, I urge you to begin to pray about how you can do just this with the girl or girls you know. Maybe you don't even know where they are in their walk with Christ…FIND OUT.  Begin there.
From that point on, begin praying for the teen girl God has placed in your life and see what God is calling you to do in their life to help them grow into a healthy young woman who knows her identity and purpose in Christ first and foremost.
View the original version of this entry at feedproxy.google.com
Nana Wusu

just moved in. Take time to say hey.

Lane Baxter

I do appreciate your request for friendship Maryen and would like to get to know you on the news feed. Later when we get to know each other I would be glad to see the photos you would like to share. If you have something to share with me please post it on the feed and I will be glad to respond. An looking forward to sharing our Faith in the Lord Jesus Christ.

Lane Baxter

>

Mission Writers

I am new to Christian writing and would appreciate any thoughts about this. Ex. How do you keep yourself motivated, handling so called dry days. How you approach the editing process. Any writing hint or tips that you have found work for you. Also like to hear about God's leading as you write. This is the most exciting part of Christian writing. Your input will be very much appreciated.

Lane Baxter

Do not solicit me for my personal email. I came her to fellowship concerning my faith in Jesus Christ. So far I have seen none of this, just lots of pushing books and products. Also plenty of people I know nothing about asking to contact me personally. Why would you do this unless you are trying to solicit me to purchase products or ask me personal information, which of course I would never give out. What kind if site is this anyway?

Lane Baxter

Why is everyone wanting to contact me personally? This is really making me feel uncomfortable. I just want want to enjoy communicating on my wall. Do you want to solicit me. I'm starting to wonder if this the reason there are so few people posting on this site. If you want to tell me something I will be glad to read it on my wall and respond there. If you want personal information from me, it should be obvious that I would not give it to anyone I don't know.