March 3, 2012
Being patient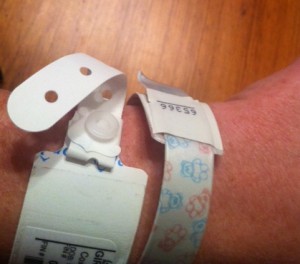 I've been home a week now from the hospital since having Baby G added to the family.  One of the books that we read commented on how the mom should continue to wear the hospital tags as a reminder to herself and her family that she is still recovering and still a patient.  My husband encouraged me to do that this week, and we've had fun with it.  It's actually been a reminder to me not to be some superwoman who tries to do everything.  For me, there were physical limitations that I truly am not able to do, and several times I or my husband would stop and remind me that I was still a patient. Through this experience,  I was thinking about our role as ministers to girls.  Sometimes these girls we love on look more adult than they really are.  We forget that they are still learning, growing, and needing specialized care during these formative years.  I have to stop and remind myself sometimes what it was to be that age, and then I have an AH HA moment that recalls the drama of girl friendships, or not getting asked to a dance, or etc etc.
So today I want you to pretend that each girl you minister to has a "hospital tag" on their wrist.  I want you to remember that you have been placed in their life to help them grow in Christlikeness.  The job you are doing is worth more than you know.  1 Timothy 4:8 says: while bodily training is of some value, godliness is of value in every way, as it holds promise for the present life and also for the life to come.
What are ways you can help the girls God has placed in your life to be trained in godliness?   If you have only been having "girl talks" with no intentional margin to bring God into the conversation, I urge you to begin to pray about how you can do just this with the girl or girls you know. Maybe you don't even know where they are in their walk with Christ…FIND OUT.  Begin there.
From that point on, begin praying for the teen girl God has placed in your life and see what God is calling you to do in their life to help them grow into a healthy young woman who knows her identity and purpose in Christ first and foremost.
View the original version of this entry at feedproxy.google.com
Clarence Fell

Ingratitude
Have you heard the story of the man that got himself in trouble with the law? His wife set her life aside and gave all her attention to helping her husband get out of his legal troubles. However, as the wheels of justice slowly turned, he found himself still in jail after many weeks. He exhausted every avenue of help that he could pursue from within the jail, there was nothing left to do but hope his wife would not give up. Fortunately, his wife focused even more, sacrificed more, and gave all she had until finally she secured his release. He was delighted, they celebrated his freedom, and his joy was unspeakable. However, soon his attention began to wander to another woman and it was not long before he left his wife for another woman.
Most of us would not give two cents for a man that would accept such generous sacrifice from his wife and then abandon her. However, many people treat God that way and then expect an enthusiastic welcome home into heaven. I think a lot of people are going to be disappointed.

Blake Atwood

shared

What is a Church Website Strategy?

: Does your church have a website strategy? "When people talk about website strategy, the conversation dips into many interesting areas. The problem is that the word strategy means something different to different people. Thus, to have an effective website strategy, you need to define what strategy is. In this article I offer you a framework to define various levels of guidance." Read more from Stephen Morrissey.

Gary Weed

just moved in. Take time to say hey.